TWINBLOCKS & Invisible Orthodontics
Dear doctor, we invite you to take part in the online course of the creator of the TWINBLOCKS - GB William J. Clark!
The lecturer presents a comprehensive approach to orthodontic treatment of all classes of occlusion pathology using TwinBlocks and TransForce expanders. He will also share his achievements in using functional dentistry and orthodontics .
On the course you will analyze a number of questions:
Detailed class II, class III, open bite and crowding treatment protocols using Twinblocks
Indications and contraindications for the use of twinblocks
Treatment of malocclusion during the early mixed dentition
Treatments of adults with invisible orthodontics
TransForce expanders. Work protocol
Interested? Simply write in response to this letter "TwinBlocks lessons" to info@ohi-s.com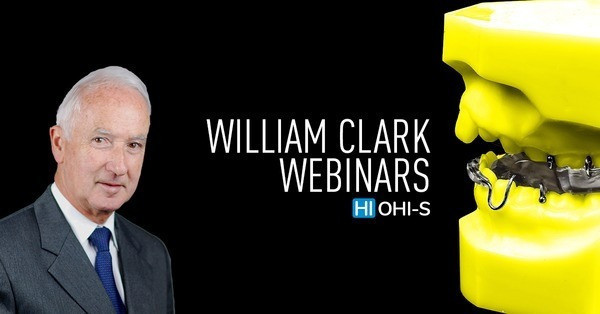 Lesson 1 - TWINBLOCKS. Biomechanics, indications, combined use with functional therapy
Orthodontics vs. Orthopedics: choosing e clinical case
Class II treatment (division 1)
Sleep apnea treatment
Treatment of dystopia (canines)
Indications for the use of twinblocks
Biomechanics of twinblocks
Invisible Twinblocks. Work protocol
Fixed or removable twinblocks
Combined use of functional therapy and fixed appliances
Occlusion after using twinblocks
Clinical cases
Lesson 2 - Treatment of complex cases: open bite, class III, crowding, early orthodontic treatment
Anterior open bite treatment
Class III treatment
Treatment of malocclusion during the early mixed dentition
Tooth crowding treatment: with/without extraction
Bioprogressive technique
Palatal expansion. Detailed protocol
Additional structural components in working with twinblocks
clinical cases
Lesson 3 - Invisible orthodontics: TransForce appliances in adults
Twinblock evolution
Invisible TransForce Orthodontics
TransForce appliances
Sagittal overjet. Detailed treatment protocol
Palatal expansion. Detailed protocol
Mandibular TransForce Expander
Treatment of adults with invisible orthodontics
Clinical cases
Lesson 4 - TransForce expanders: treatment of pathology in sagittal and transversal planes
Indications for work with TransForce expanders
TransForce sagittal expander. Work protocol
Biomechanics of working with TransForce expanders
TransForce upper and lower expander
Treatment of dentoalveolar asymmetry
Treatment of bimaxillary protrusion
TransForce transversal expander
Clinical cases
Interested? Simply write in response to this letter "TwinBlocks lessons" to info@ohi-s.com